Purchase a qualifying instrument and
receive a $100 gift card.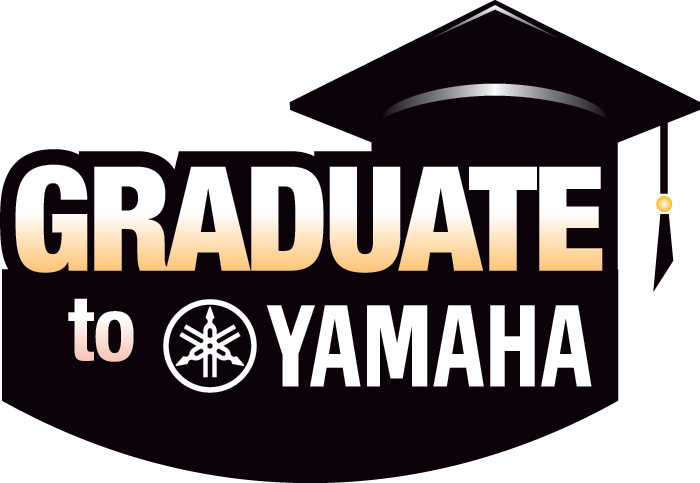 Purchase a qualifying Yamaha professional or Customer level wind instrument from a Yamaha Authorized Dealer between
April 1, 2015 thru June 30, 2015:
Piccolo, Flute, Clarinet, Oboe, Bassoon, Saxophone, Trumpet, Cornet, Flugelhorn, Trombone, French Horn, Alto Horn, Baritone Horn, Euphonium, or Tuba.
Promotion claim form submissions must be
received or postmarked by July 31, 2015.
---
Acceptable model numbers include: YPC, YFL, YCL, YOB, YFG, YSS, YAS, YTS, YBS, YTR, YCR, YFH, YSL, YBL, YHR, YAH, YBH, YEP, YBB, YCB, YEB, YFB. Starting with a 6, 7, 8, 9 or a letter (For example: YFL-677HCT, YCL-CSGII, YAS-62III, YTR-8335S). Flutes starting with a 5 are also acceptable.
Acceptable Models
Piccolos
YPC-6*
YPC-8*
Flutes
YFL-5*
YFL-6*
YFL-7*
YFL-8*
YFL-9*
YFL-A*
YFL-B*
Clarinets
YCL-6*
YCL-C*
YCL-S*
Oboes
YOB-8*
Bassoons
YFG-8*
Saxophones
YSS-8*
YAS-6*
YAS-8*
YTS-6*
YTS-8*
YBS-6*
Trumpets
YTR-6*
YTR-8*
YTR-9*
Cornets
YCR-6*
YCR-8*
YCR-9*
Flugelhorns
YFH-6*
YFH-8*
Trombones
YSL-6*
YSL-8*
YBL-6*
YBL-8*
Horns
YHR-6*
YHR-8*
Alto Horns
YAH-8*
Baritone Horns
YBH-6*
YBH-8* 
Euphoniums
YEP-6*
YEP-8*
Tubas
YBB-6*
YCB-6*
YCB-8*
YEB-6*
YFB-6*
YFB-8*
*Indicates all model variations beginning with this number are eligible (ex. YFL-5* indicates the YFL-577H, YFL-577HCT, YFL-587H and YFL-587HCT are all eligible for a rebate).
Terms & Conditions
You must be 18 years or older. Offer valid only on purchase of Yamaha Model(s) listed at 4wrd.it/GTY15 from an authorized Yamaha dealer, between April 1 – June 30 2015. Follow instructions from your authorized Yamaha dealer to submit your promotional claim online at 4wrd.it/GTY15, or see instructions at 4wrd.it/GTY15. All claims must be submitted online via 4wrd.it/GTY15, and must be received by July 31, 2015. Late submissions will not be accepted. Proof of submission is not proof of receipt. No responsibility is assumed for faulty transmissions or any failure or interruption of electronic communications. Claim must include serial number of purchased Yamaha model, plus an electronic copy of your original sales receipt identifying the model purchased, the authorized Yamaha dealer, and the date of purchase. Offer valid only in the 50 United States and D.C. Promotional offer will not be mailed to addresses outside the 50 United States or D.C. No P.O. boxes (other than in ND). Limit one claim per household, per product, and per address, as allowed by law. All claims are subject to validation. Yamaha reserves the right to request additional information to validate any claim. Allow 6-8 weeks for validation and issuance of the promotional offer. Void where prohibited, taxed or restricted. Fraudulent submissions will not be honored and may be prosecuted. Cannot be combined with any other offer. If you have questions about the status of a rebate claim, call 1-855-774-7557, or email us at yamahapromotions@cseideas.com.